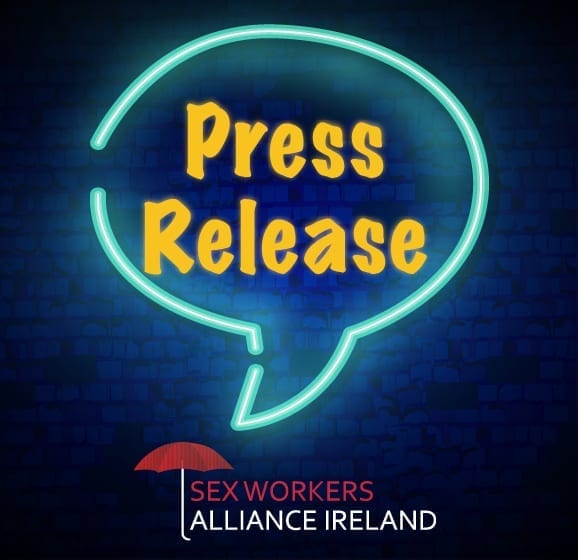 Today the Sex Workers Alliance Ireland (SWAI) learned that the long overdue review of the sex work laws in Ireland has hit another stumbling block, as the independent reviewer heading up the report has stepped back.
Linda Kavanagh, comms manager of SWAI said " As usual, there was no contact made with SWAI and other stakeholders to let us know of yet another issue with this independent review. We are grateful to have learned this through a question asked by Catherine Connolly, who has been persistent in her enquiries as the timeframe for this report became longer and longer."
She continued "A mandatory review of the law was built into the change in Part 4 of the Criminal Law (Sexual Offences) Act 2017 to occur 3 years after the law was passed. Despite numerous requests for information on the process, the report's mechanisms remained opaque. We note that the abortion law review was called for later than this review (2019) and was conducted and published earlier this year. We have now been waiting 3.5 years to be heard." 
Mardi Kennedy, coordinator of SWAI said "We have been troubled by the lack of transparency about this review since it began. We worry that the time elapsed since we participated in the review means the data is out of date. We are concerned that the independent reviewer, the person who talked with sex workers directly, is now no longer involved and any person who steps into the role now will lack that meaningful engagement."
Linda said of the review "We have become increasingly frustrated with the statements made by the various Ministers for Justice during this time. If there was an issue with the time taken for the femicide report, as described in 2020, why has that issue persisted into mid-2023? We have reached out to the Minister for Justice to request a meeting.
While the review has taken up considerable time and resources for our organisation, and the mental capacity of the sex workers who engaged in the process, we would rather see this process started again and done properly. This review is vitally important, lives are at stake. We have already seen a young woman, Geila Ibram murdered under these laws, sex workers jailed for so-called brothel keeping, and increased and violent attacks. How can sex workers have faith in this process with so many delays and changes?"
Amber*, a sex worker based in Ireland said "The Government failed us when the laws were introduced. They are again failing us by denying us an opportunity to inform them on how these laws are impacting our lives!".
Leea Berry, Chair of SWAI and current sex worker, stated "The lack of importance shown toward the review of this law is concerning. The current law has already murdered one sex worker and continues to harm us. How many more must suffer or die before we can have the review we were promised?"
ENDS