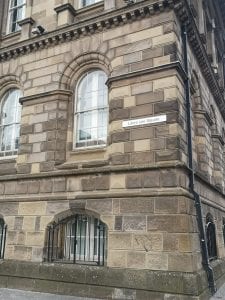 Kate McGrew, current sex worker and director of the Sex Workers Alliance Ireland said "Yesterday, Thursday 5 March, a private meeting was held between the Police Service of Northern Ireland (PSNI), the Sex Workers Alliance Ireland (SWAI), The Rainbow Project, UglyMugs.ie and sex workers.  It was a constructive meeting and was well-attended by sex workers of many different backgrounds working in Northern Ireland."
She continued "PSNI Sex Work Liaison Officers (SWLOs) were introduced in 2015, following the advocacy work of Laura Lee.  At this meeting it was announced that the number of PSNI Sex Work Liaison Officers (SWLOs) has now been increased from two officers to six officers and there is also now a new dedicated contact email address for the SWLOs – [email protected]."
Detective Chief Superintendent Paula Hilman, Head of PSNI's Public Protection Branch opened the meeting speaking directly to sex workers and saying: "It is not for us to judge, discriminate against anyone, from whatever background, whatever work they do.  Our role is to keep everyone safe and that includes you in the room here with us this evening."
At the meeting the PSNI, SWAI, UglyMugs.ie and the Rainbow Project all spoke about what each organisation is doing to improve the safety and well-being of people in sex work.  A representative from The Rowan, Northern Ireland's regional Sexual Assault Referral Centre (SARC), also spoke about their services and their sex worker friendly approach.
Kate also stated "This meeting provided an important opportunity for sex workers to provide feedback to the PSNI and for everyone present to recommit to working in partnership on an ongoing basis.  For reasons of privacy, we will not be publicly detailing the discussions that took place. However, SWAI is very pleased that the PSNI want to listen to and support sex workers.
A more detailed update following the meeting will be circulated to sex workers only next week.  The Rainbow Project are also now organising monthly sex worker only meetups, on the first Tuesday of every month.  If you are doing sex work in Northern Ireland, please know that there is sex worker friendly support available to you, including the sex worker led work that SWAI does in Northern Ireland.  We are here for you.
Prior to the event, SWAI and Reclaim the Night came together to temporarily re-name Queens Square 'Laura Lee Square' in honour of all our much loved and missed colleague, Laura Lee."
#DecrimforSafety #SupportSafeSexWork