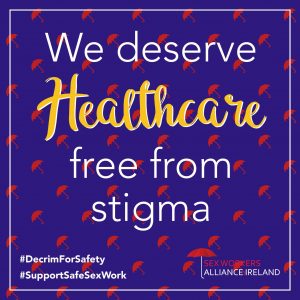 We all deserve to work in safety, access health services and paths to justice. Since the enactment of the 2017 law, sex workers are less safe. Violent crime against sex workers has increased by 92% in the past 2 years. 
Kate McGrew, sex worker and director of Sex Workers Alliance Ireland (SWAI) says "We deserve to be safe but instead of decreasing demand the laws have created a buyers market, where the purchasers of sex hold the power. This in direct opposition to what we were told was the intention of the law. Sex workers are not decriminalised. The penalties of sex workers sharing premises together, also known as brothel keeping, has doubled since the introduction of the new Sexual Offences Bill in 2017. Sex workers are now forced to work in isolation, which puts them at further risk of violence and exploitation. Since the law has been introduced many more sex workers have been arrested than clients. We want sex work decriminalised so that the power gets put back in the hands of the worker."
She adds "Security and safety matter to sex workers too. When the laws changed in 2017 we saw a marked increase in violent crime. We supported several trans migrant sex workers after a spate of serial attacks. If we are attacked we want to rely on the Gardaí to help us and to apprehend our attackers. Sex workers are afraid to report crimes to Gardai, in fear their workplace will then be surveilled to catch their clients. The law means sex workers see Gardai don't have their best interests at heart, as they need to enforce the laws. The current law diverts much-needed resources away from community policing and into policing what happens between consenting adults."  
"Sex workers can be an ally in the fight against trafficking, but right now we feel we cannot approach the Gardaí with information because we will be surveilled, or worse, deported. This new law does nothing to solve human trafficking." Kate Continues. "Everyone is worthy of a life without oppression and coercion, including sex workers. Workers that have been caught up in brothel raids have been asked to leave the country. Where are the oversight and compassion? How does that solve human trafficking?
We want to be safe in our jobs. Since the laws have been enacted workers have lost negotiating power with their clients. Ending demand has led to a drop in prices, increased risk-taking such as taking clients that they feel aren't safe or not using a condom. In Ireland rates of HIV are rising. Sex workers are at increased risk of HIV but with stigma perpetuated by state bodies and misguided politicians, workers may not attend services provided for them. Trans and vulnerable migrant workers bear the brunt of this and fall through the cracks. We need services fit for purpose.
In Ireland, in the past year, we have monumental strides away from our dark past of Magdeline laundries and hiding women away in shame. We succeeded in repealing the 8th amendment by having difficult conversations about taboo topics. We asked the country to listen and they did. Now we ask misinformed politicians to listen to us. 
We are the currently working sex workers in this country. We are the experts in our lives and we are telling you that these laws are damaging. We are calling on the government to decriminalise sex work fully in the 2020 review and make sex workers safe." 
#DecrimforSafety #SupportSafeSexWork