This Trans Day of Remembrance LGBTQI+ organisations must stand with the Sex Workers Alliance of Ireland (SWAI) when we call for the full decriminalisation of sex work. Any alternative is putting the health and safety of trans people at risk.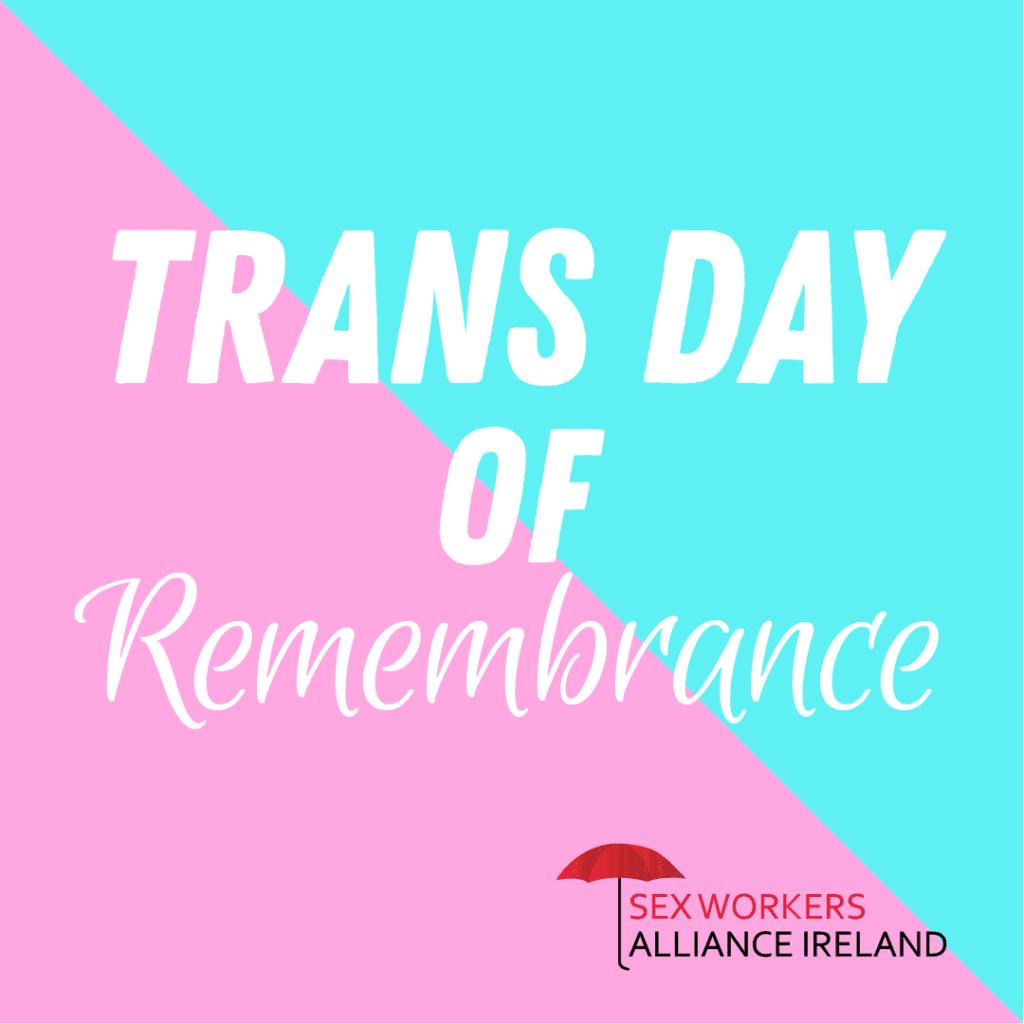 Aoife Bloom, board member of SWAI says "Today, on Trans Day of Remembrance 2021 we demand that society acknowledges how the majority of trans people who were killed in 2021 were trans sex workers.
2021 is a record-breaking year for violence against trans people. 375 gender diverse people were murdered and the majority of those murdered were black and migrant. Over half of those murdered were sex workers. When we talk about transphobic violence and Trans Day of Remembrance we're usually talking about trans sex workers of colour."
She continues "Here in Ireland, trans sex workers are often the victims of the spate of violence that occurred directly after the law changed in 2017. Liam Vickers preyed on a vulnerable trans woman and was enabled by our recently changed laws. The change in law created an environment wherein our vulnerability was highlighted in the media, without providing any new protections for us whatsoever. The law increased criminalisation of people co-working, under "brothel-keeping" legislation, distancing us from authorities, and also forcing us to work alone if we were trying to work within legal parameters. Since the law changed in 2017 we have seen a 92% increase in violent crimes against us.
Recent research by the European Sex Worker Alliance (ESWA) highlights that 83% of sex workers surveys felt that transphobia had a detrimental effect on their mental health. Trans people are over represented in the sex work community because they are marginsalised and unable to find other work. Sex work is an economic activity, after all.
Our current model of client criminalisation does not respond to the circumstances of deep poverty, domestic violence, homelessness, precarity and drug use that may lead to people selling sex. Sex workers exist on the sharp end of misogyny, racism, transphobia and other forms of marginalisation. Sex workers must work alone to work legally which increases our vulnerability.
How long more can government, health authorities, and gender equality bodies here ignore the growing body of evidence that shows that their policies are damaging and endangering to the physical and mental health of this precarious group of people?
SWAI demands that organisations that claim to support trans people start to advocate and agitate for the full decriminalisation of sex work. Decriminalisation is essential for combating trans marginalisation and HIV rates, building trust with marginalised communities and providing access to sexual health supports. You cannot be pro LGBT rights without being pro-sex worker rights."