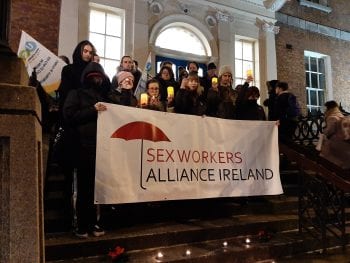 December 17th marks International Day to End Violence Against Sex Workers.
Kate McGrew, director of Sex Workers Alliance Ireland (SWAI) says "This year the review of the sex work laws has begun and we worked to ensure that sex worker's voices were heard in the policy decisions that govern our lives. These laws have kept us isolated by ensuring we work alone or forcing us to break the law when we work together with another worker for safety. Poverty is brutal and taking away our options does nothing to increase our safety. These laws have increased violence against us and only by fully decriminalising sex work will we begin to remedy that and centre the safety of sex workers."
She continues "The End Demand laws were purported to end trafficking but Ireland has moved down to the Tier 2 Watchlist in the US Trafficking in Persons Report this year. 
This year so-called brothel workers remain imprisoned. In Limerick, co-workers were attacked precisely because they were working together for safety and they had no legal recourse that would not result in them also being arrested. We have seen more migrant workers sentenced around the country. Our sex work and so-called brothel-keeping laws continue to be applied in a racist way.
This year has been devastating for all marginalised people including sex workers. Because of the quasi-legal nature of our work, most sex workers did not qualify for PUP and were left behind. Our organisation was also refused funding and admission to government committees for vulnerable people because we recognise that sex work is an economic activity. 
Almost half of sex workers in Ireland were unable to give up work during the pandemic and even now most have returned to work. It is simply unfeasible to expect people not to work for 9 months of the year, even if your job is intimate work. Demand for sex work was severely reduced this year and yet there were little to no supports for sex workers. Laws that are based on ideology instead of worker safety are state-supported violence against us. 
Gardaí also used COVID laws to move on and detain workers and they continue to misrepresent the law. Street sex work is decriminalised in Ireland yet street workers have been pulled off the street and photographed in Garda stations so that the Gardaí can more easily identify them if they are murdered. They are then released back onto the street hours later with their whole night's work ruined. This forces street workers to take on work they would normally turn down because the need for money is more important than the fear for their own safety. 
As we face into a recession we know more and more people will turn to sex work, as they did in 2008, to make ends meet. Our laws should ensure safety for these new workers, not put them in more danger as they have since 2017.
In the last few weeks, the sex worker community has been devasted by blow after blow. Scotland is currently consulting on introducing the Nordic Model and the UK passed its first reading on legislation to introduce End Demand laws there too. These laws are being introduced for moral reasons with no evidence that they work. Sex workers are being ignored again about the reality of lives and our safety. Sex workers continue to have their income curbed as various platforms such and Instagram and Facebook have banned us and many financial platforms such as Paypal, Visa and Mastercard do not allow us on them. During a global pandemic, we need to be able to access cash. SWAI struggled with this issue when giving our hardship funds. 
However, as always the sex work community takes care of our own because no one else will. We created a hardship fund which gave small grants to over 170 sex workers during the first lockdown. We also created a number of harm reduction guidelines for those who could not give up work. 
The Sex Workers Alliance Ireland also received our first Irish funding, a milestone for us and an acknowledgement that affected led advocacy is key. Despite the constant cruel stigma, laws that have made us less safe and a society that wishes we weren't there we are resilient and we deserve to be heard."
#DecrimforSafety #SupportSafeSexWork