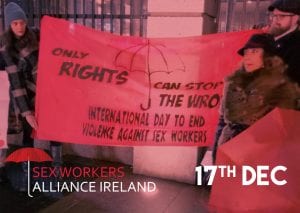 Today is International Day to Eliminate Violence Against Sex Workers. Safety and a life free from violence is everyone's right. But sex workers are put in danger because of our laws and the stigma surrounding sex work. 
Catriona, current sex worker and chairperson of the Sex Workers Alliance Ireland (SWAI) said "Since the sex work laws changed in 2017 the lives, health and safety of sex workers have been put in danger. Here are the facts.
Sex workers have less trust in the Gardaí than ever and less than 1% will contact the Gardaí if they are a victim of a crime

Gardaí resources are being wasted on a failed experiment
She continues "Violence against sex workers has increased by 92% since 2017. Criminals know that sex workers are forced to work alone to work legally. This isolation makes them vulnerable to attacks. If workers work together for safety they are breaking the law. Criminals know this and attack them because they know the workers will not risk arrest by reporting. Sex workers make up 61% of trans people murdered this year globally. Some misguided people say that all sex work is a form of violence but what language do we use then to talk about the very real violence such as the spate of robberies that occurred in the past 6 weeks? 
We all expect laws and the Gardaí to keep us safe. But the current sex working laws and the way the Gardaí operate means that sex workers do not trust the Gardaí. The same Gardaí who arrest us for working together for safety are the ones we are expected to report to when there has been a crime committed against us. Gardaí are using the spate of crimes committed against sex workers lately as an excuse to clamp down on sex work. Is it any wonder trust is at an all-time low!
This year we have received data from a number of sources, including the Minister for Justice that the people who are arrested under the so-called brothel-keeping laws in Ireland are migrant workers) Not traffickers, not pimps but the women who the laws were purported to keep safe. 100% of the workers we speak to want to work together for safety. The law is failing and is being applied in a racist way. The Irish Human Rights and Equality Network report to the International Convention on the Elimination of All Forms of Racial Discrimination drew attention to this fact. 
Recent news has shown that some areas of the country cannot afford to take on new cases and cannot afford foot patrols. Garda resources are being squandered in an effort to police consensual sexual activity between adults. The laws have not reduced trafficking or indeed sex work. 
Sex workers want to work with the Gardaí to make Ireland a safer place. This year a serial rapist was sentenced to 20 years for a spate of attack on sex workers. SWAI was the first point of contact for the victims and the collaboration with Gardaí took a dangerous criminal off the street. Think of what we could accomplish if the laws worked with sex workers, not against them.
This International Day to Eliminate Violence Against Sex Workers, let's fight for everyone, even if they do a job you are not comfortable with. Fighting for the safety and health of women includes sex workers who cannot or will not give up sex work. We need to acknowledge that it is a job, often people's last resort, do not take it away from them. The End Demand model does nothing to address the real needs of sex workers.
We need to decriminalise sex work so that sex workers can be safe in our jobs. I want to be proud to be in this country where we take care of everyone and where the laws really keep us safe!
This is the last International Day to Eliminate Violence Against Sex Workers before the review in 2020. We are concerned that the voices of currently working sex workers will be ignored in the review. Sex workers voices are invisible in Ireland. We in SWAI are not speaking over or for sex workers we ARE sex workers, and we need to be heard in the review of policies that affect our lives. We deserve to be listened to."