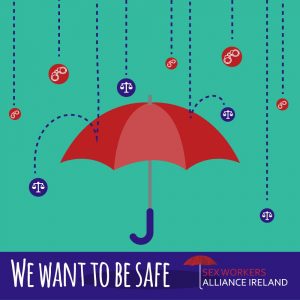 Both sex workers and Gardaí have known about these criminals for some time but sex workers refuse to contact the Garda because trust in Gardaí is at an all-time low since the law changed in 2017. 
"The increased assaults and robberies on sex workers currently being investigated by gardaí are a direct consequence of the Criminal Law (Sexual Offences) Act 2017, which specifically prohibits sex workers from working or even living together for safety,  so-called brothel-keeping, and makes the consensual purchase of sex a criminal offence" says Kate McGrew, current sex worker and Director of Sex Workers' Alliance Ireland said today.
Commenting on the announcement that gardaí are investigating a systematic series of physical assaults and robbery of sex workers, she said "The 2017 law, which is due for review in early 2020, should be scrapped. It should be replaced by legislation that decriminalises sex work and to provide labour law, health and safety guarantees instead."
"Under the 2017 legislation, sex workers have faced ever greater physical threats due to increased stigma and isolation. This has directly facilitated the type of attacks now being investigated by Gardaí because criminals can realistically assume that sex workers will be alone and defenceless if attacked. If they are working together for safety the criminals know the worker is unlikely to call the Gardaí because they fear being prosecuted for so-called brothel-keeping. These fears are not unfounded since two migrant workers working together for safety were jailed during the summer this year. 
"The fact that these attacks are being carried out by gangs of people means that sex workers lives are now at risk from criminals gangs. The negative impact of the law is vividly shown by the fact that gardaí have had to issue the ludicrous assurance that sex workers who have been violently assaulted and robbed will be treated with the 'utmost sensitivity and confidentiality.' Such a statement would never need to be issued for any other worker or person subject to violent attacked and theft," Kate McGrew said.
"Asking sex workers to only see known clients to them shows the disconnect that the Gardaí have from the lived experiences of sex workers. A worker needs to pay rent, pay bills and feed themselves, just like everyone else and is not in a position to turn away clients. Many sex workers are single mothers and on the run up to Christmas, they cannot afford to follow this advice."
Through our safety networks, SWAI and sex workers have known about these criminals for some time but workers refuse to contact the Garda because, at best, they fear surveillance of their workplace or clients and their livelihood taken away. 
"The law is placing the gardaí in an impossible position. If they encounter a sex worker living alone it is 'legal', but if contacted by sex workers living together for safety they must prosecute them as criminals," she said.
"Declan Daly, Detective Chief Superintendent from the Garda National Protective Services Bureau said on Morning Ireland that this is a vulnerable population but the law is what is making the workers vulnerable. 
It doesn't have to be like this. In New Zealand sex work is decriminalised. Sex workers can take legal action for assault or exploitation, without being 'shamed' for their profession. A similar approach should apply in Ireland.
We all deserve to be safe and we all should have laws that work to make us safer. Sex workers deserve this too. The egregious waste of Gardaí resources used to prosecute consensual sex work and workers working together for safety could be better used in prosecuting criminals such as these. We have worked previously with Gardaí to successfully prosecute serial rapists in the past.
We need assurances from the Gardaí that if workers who have been working together for safety are attacked they will not be prosecuted under brothel-keeping laws. We need removal of brothel-keeping laws that mean that workers can work together safety. We need to be included in the review of the Criminal Law (Sexual Offences) Act 2017 and we need sex work fully decriminalised."
#DecrimforSafety #SupportSafeSexWork