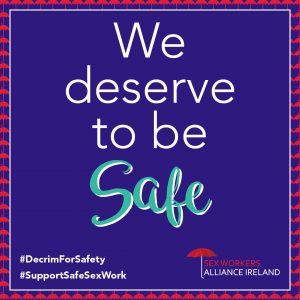 We all expect laws to keep us safe, but the laws around sex work make Ireland more dangerous. 
Kate McGrew, director of Sex Workers Alliance Ireland (SWAI) and current sex worker says, "SWAI are happy to hear the news that a serial rapist was handed a 20-year prison sentence today. This man systematically targeted migrant sex workers in the wake of the change in the law around sex work in 2017. 
SWAI was the initial contact by the sex workers involved in this serial rapist, who was targetting Czech sex workers. We helped the workers to report the rapist to Garda and supported them throughout the trial. As a front-line organisation, which is the only sex worker-led organisation in Ireland, many sex workers turn to SWAI to support them, when they are a victim of a crime."
She continues "It is very difficult for victims of rape to get justice through the criminal justice and have their rapist convicted. It is even more so for sex workers, who are often reluctant to go to the police to report sexual violence. Sex workers fear they will not be taken seriously because of their job. Since the introduction of client criminalisation or the "Nordic Model", less than 1% of sex workers report crime to the Gardaí according to Ugly Mugs, a safety screening app for sex workers to report dangerous clients.
Today is a success, as sex workers were able to get justice, despite the fact that they have very little trust in Gardai. In the last two years of client criminalisation, there has been a 98% increase in violent crimes against sex workers. 
We in SWAI warned that this increase in violence would happen in the wake of the introduction of client criminalisation. The voices of current sex workers and their allies were ignored when this law was introduced. 
Policymakers and misinformed politicians need to listen to SWAI and current sex workers during next year's review of the law in 2020. There is an epidemic of violence against sex workers made much worse by client criminalisation. The conviction today was an exception, rather than the rule, when it comes to sex workers finding justice. 
We want to thank the women for coming forward despite a climate that does not encourage them to do so. The streets are safer thanks to these sex worker's bravery. As always we are here for any sex worker who needs us, regardless of circumstance. Please call us on 085 824 9305."
#DecrimforSafety #SupportSafeSexWork.