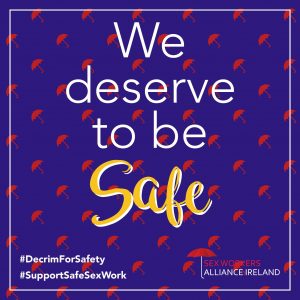 Justice for sex workers is rare but there is hope, says Sex Workers Alliance Ireland
Today the Dublin Circuit Criminal Court found a man guilty of serial violent sexual assaults on sex workers in 2017. 
Kate McGrew, director of SWAI and current sex worker says "We all expect laws to keep us safe. Before the law introducing criminalisation of the purchase of sex in 2017, sex workers and our allies warned misinformed politicians and the state that this will see an increase in violence against sex workers. Since the law changed we have seen a 92% increase in violent crimes against sex workers."
She continued "As the first point of contact for these victims we encouraged and supported them through this process while liaising with the Gardaí. As a result of the bravery of these women, this man has now been prosecuted. We are heartened to see that our work and liaising with Gardaí have resulted in a conviction. It is all too rare for sex workers to get justice."
"When people are attacked or assaulted one of the first steps they will take is reporting to the Gardaí. When you are a sex worker you have to weigh this up against the threat of deportation, future surveillance or even mockery by the Gardaí. Many workers never report assaults and have a long-standing mistrust of the Gardaí. Sex workers must feel safe to report without scrutiny or judgement on their livelihood and residence.
Today's case gives us and sex workers working in Ireland hope that they can report Gardaí and find paths to justice. We are heartened to see stretched Garda resources being used to prosecute those who are attacking vulnerable women. We reiterate our call to decriminalise sex work so that workers feel safe in reporting to the Gardaí. We call for the end of criminalisation of the purchase of sex and women working together in pairs for safety. As always we are here for any sex worker who needs us, regardless of circumstance. Please call us on 085 824 9305."
#DecrimforSafety #SupportSafeSexWork.