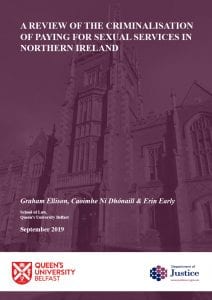 Client criminalisation is not fit for purpose, has has been met with an increase in sex trafficking and is actively harmed the mental health of sex workers in Northern Ireland, according to a new report from the Department of Justice.
Kate McGrew, current sex worker and spokesperson for the Sex Workers Alliance Ireland (SWAI) said today "This report commissioned by the Department of Justice shows that there has not been a decrease in demand for sex work since the introduction of client criminalisation (also known as the Nordic Model) in Northern Ireland in 2015. Instead, we have seen an increase in sex trafficking by 26% and the health of sex workers put at risk."
She continues "Sex workers in Ireland tend to work both jurisdictions so a lot of the findings in this report will be applicable to the Republic of Ireland. If the purpose of the law was to decrease demand it has failed. If the purpose of the law was to help sex workers it has failed. In the north, it led to massive increase in advertising (on one site alone over 1700 new ads) and demand (in one jurisdiction by 134%) and a 200% increase threatening behaviour in clients. In the south, it led to an increase of violent crime against sex workers by 92% The law is a failure on the entire island of Ireland.
Northern Ireland was the only region that introduced the Nordic Model that also conducted baseline research so this research must be taken very seriously. 
Sex worker rights activists fought for the liaison officers to remain in public protection, not enforcement. This has resulted in sex workers in Northern Ireland are very appreciative of the work that the PSNI liaison officers do. The PSNI were vocal about their opposition to the law. They knew it would make their work more difficult, and that is reflected in their policing. Gardaí have an increasingly antagonistic approach to sex workers since the change in the law in 1993. Policing consensual sex work does not reduce trafficking and is a waste of resources. 
The law has put the mental health of sex workers at risk by causing an increase in threatening behaviour. This was predicted by sex workers, who were ignored during the process of introducing the laws. Susan Huschke's research showed clear on the opposition from sex workers (98% were against the change in law). The law has increased our marginalisation and stigmatisation. We deserve better than this.
We want full decriminalisation of sex work on the island of Ireland so that we are safe, healthy and have laws that protect us.